How you, too, can celebrate Salami Day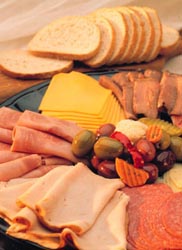 Salami day, as with all meat producted oriented holidays, should be celebrated with a hearty dose of vigor as well as a well-prepared stomach! Of couse, the simplest way to celebrate Salami Day is simply to eat some Salami. But, you may be asking yourself, how do I do this? Simple: head down to your nearest deli and pick up a pound or two, or even an entire log if you are feeling festive! Your local deli should have several types to choose from, don't get overwhelmed! The important part is that you uphold the spirit of Salami day, and you can do this even with a quick trip to your local sub shop! Be sure to drag all of your friends with, as we don't want to leave anyone out of the festivities.
Now, if you are looking to hold a Salami Day related event, or even if you simply wish to pique your co-workers' interest (and appetites!), you can embellish your Salami with the appropriate edible accoutrements. For example, a deli platter always goes over well. Cheese is an excellent companion food item for salami. Crackers, as well, are quite appropriate. Should you be feeling particularly saucy on our beloved September 7th, head on down to your local wine retailer and see if they have any good bottles to accompany a nice log of salami!
For the truly adventurous soul, the ideas for sprucing up a Salami Day related party are as limitless as your imagination. Some suggestions we can put forth include:
Pin the tail on the Salami
Bobbing for Salami (even more delightful when floating in a tub of hot butter, watch out for your arteries, though!)
Salami Day costume contest
Salami party hats
Invite every guest to bring a wienerdog
Play a good game of Sausageball
A knitting/crocheting party, to make doilies and coverlets for your salami
Salami sculpture contest
Salami trivia games
Play 'Name that Salami!' by having a blindfolded taste test
Need some party favors? Why not make plush salamis for your friends?
And that's just the tip of the iceberg! If you have any really good party activities, send them on over to the Salami Day inbox, and if they're really good, they'll get added to this list!